Data transfer incomplete.
This is a stub article. Make high quality edits to this page in order for it to be considered as a functioning article.
This is a page considering the list of cryptic messages found within the Nickelodeon animated series,
Welcome to the Wayne
.
While Ansi and Olly were leading themselves to numerous squidjits, a secret code at the Playground is seen on stone.
The message reads:
"assemble the gyre"
While Saraline is reading a book.
The message reads:
""how to fill a meat vessel"
While Ansi is talking to Julia.
The message reads:
"dont trust molina"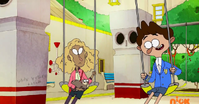 Under the pipes that Team Timbers and Leif are under.
The message reads:
"vampires go home"
While Saraline was climbing a ladder, you can see a cryptic message on the wall.
The message reads:
"bbeme bbearing wall"
When Ansi was heading several floors down the cryptic message was on to the lower wall.
The message reads:
"conductor assembly required"
On the black board, and in the book.
The blackboard reads:
"possilble long term effeckt of the recent tangential efenk*" *last word is a bit unclear
The book reads:
"knows which side struck
first bbut whether it
was for reconaissance
or agitation the vampires
led an historical incursion
into the bbuilding proper
and reportedly terrorized
[page change]
the human inhabbitans
many accounts cite this as
the catalystf rthe
so-called uprising of
seventy eight.
however more recent
research suggests"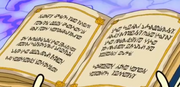 While Ansi is checking his mail.
This message has yet to be decyphered.
The code
| Letter | Symbol |
| --- | --- |
| A | |
| B | |
| C | |
| D | |
| E | |
| F | |
| G | |
| H | |
| I | |
| J | |
| K | |
| L | |
| M | |
| N | |
| O | |
| P | |
| Q | |
| R | |
| S | |
| T | |
| U | |
| V | |
| X | |
| Y | |
| Z | |